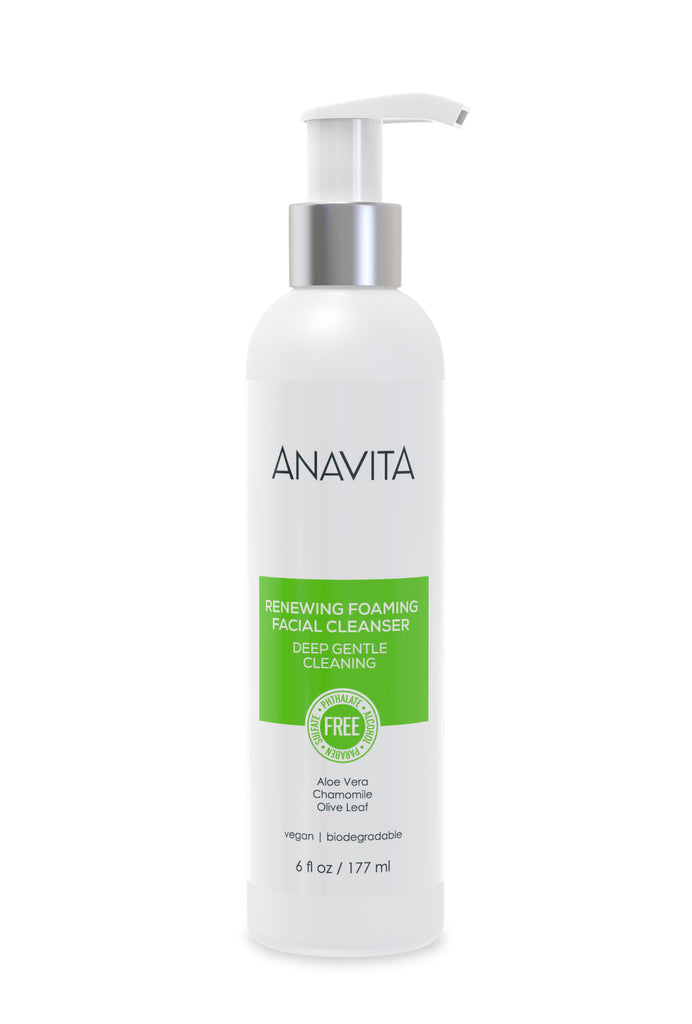 Anavita Renewing Foaming Facial Cleanser
ANAVITA RENEWING FOAMING FACIAL CLEANSER
A glowing complexion begins with a clean face. This cleanser completely cleans skin so well that many users report they hardly get even occasional pimples.

Anavita Renewing Foaming Facial Cleanser pure natural formula rejuvenates and nourishes the face while removing excess oil and impurities from the skin leaving it refreshed, smooth, clean and healthy looking.  This daily deep cleanser utilizes the power of natural botanicals including Aloe Vera, Chamomile and Olive Leaf, and is 99.8% natural and 70% organic. 

Its skin soothing formulation is appropriate for all skin types: oily, dry, normal and combination. The fresh light orange scent makes it appealing to both women and men.

This deep pore cleanser treats acne, clogged pores, and removes dirt, sweat, oil build-up and makeup. Regular use will restore skin to a clean healthy glow leaving it refreshed and radiant with no residue or build-up.

Use both morning and night. Follow with Anavita Moisturizing Anti Wrinkle Cream for a powerful, effective, two-step daily anti-aging skin care regimen.

The vegan cleanser does not contain harsh chemicals, parabens, harsh preservatives, synthetic colors or fragrances, phthalates, sodium lauryl/laureth sulfate, petroleum oils and is never tested on animals.

Full Ingredient List: Aqua (Water), Organic Aloe Barbadensis (Vera) Leaf Juice, Sodium Cocoyl Isethionate (from Coconuts), Sodium Methyl Oleoyl Taurate (from Coconuts), Lauryl Betaine (from Sugar Beats), Organic Matricaria Recutita (Chamomile) Flower Extract, Organic Olea Europaea (Olive) Leaf Extract, Guar Hydroxypropyltrimonium Chloride (from Guar Gum), Butyrospermum parkii (Shea Butter), Citrus Aurantium Dulcis (Orange) Essential Oil, Gluconolactone, Sodium Benzoate

How To Use: Moisten skin with lukewarm water. Apply cleanser to face and work into a lather using gentle circular motions. Rinse. Good for all skin types. Use daily, morning and night.
FREE Standard Shipping on Orders over $49 in the USA!

Most USA-based orders are shipped directly from an Amazon warehouse within 24-48 hrs for your convenience.

Standard Shipping in the USA may take 7 to 10 days to arrive.

Standard Shipping to Canada may take 10-14 days to arrive.

Standard Shipping outside the USA and Canada may take 2-3 weeks to arrive.

Weight limit of 2 pounds (907 grams) to countries outside of the USA, Canada, UK and Ireland.

Expedited Shipping is available in 

USA, Canada, UK and Ireland.




Low cost shipping worldwide.
Returns Information:
We offer a 100% Satisfaction guarantee or a complete refund of your purchase price. Please contact us for return requests.
Anavita's top priority is to provide you with 100% satisfaction, and nothing is more important for our company than giving you a positive experience. We are a family-owned business based in Tennessee, USA, and customers praise us for our high level of personalized service. Our products are made under stringent manufacturing guidelines in North America with care and attention to every quality ingredient chosen. Shop with us today and see the Anavita difference.
Here are just a few more reasons why you should shop with us:
Your order is reliably shipped by Amazon, the partner we have chosen to fulfill orders because of their strategically placed warehouses across the United States. 

Secure Ordering platform

Lowest pricing available online

Sealed and shrink-wrapped products ensure freshness

Personal, friendly support from our knowledgeable and professional customer service agents

Tons of satisfied customers

Quality ingredients sourced from reliable, established suppliers

100% Satisfaction money back guarantee

All items in stock and ready to ship

Much of our business is from repeat buyers. We must be doing something right!
Anavita's performance-oriented products are formulated with special care to include only the best quality ingredients and avoid unnecessary and unwanted additives. Each of our products are produced in certified cosmetic production facilities in North America and are never tested on animals. You want to look your best, and we want to help you achieve that with great products. 
The bottom line is we love our customers, and our customers love our products!